Blogging – How To Use A Blog To Benefit Your Online Business
The Benefit of Blogging
A new evolution of thinking is emerging in online marketing. It's not about how flashy your banner ad is. It's not about how loud you can yell. It's not about how interesting and remarkable you are? It's not about you saying how remarkable you are. It's all about your audience and new visitors, ultimately is is about how to use a blog to benefit your online business
How loud can you shout? How outrageous can you be? These are questions marketers have been asking for nearly a century. This paradigm shifted happen when Doyle Dane Bernbach injected intelligence into advertising in the 1960s with their revolutionary "Lemon" print ad for Volkswagen.
For them, it wasn't about how loud you can shout, it's about how interesting you are. Since the 1960s, there has been a blend of intelligent campaigns, but far outweighed the concept of yelling – think Times Square.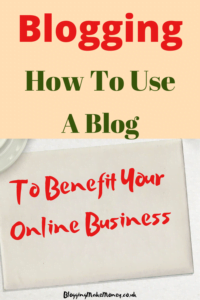 With the inception of the web, the thinking that drove real-world advertising shifted to the online space. There was a mix of flashy and intelligent banner ads. But just as Doyle Dane Bernbach shifted attitudes in advertising in the 1960s, we are in a transitional stage in online marketing.
It's not about you anymore, it's about the consumer especially with the influx of peer-to-peer networks and social media. It's about how engaging your content is. It's about your audience. You have to realise that it's about the value consumers place on your product, service or brand.
The new thinking speaks to the importance of consumers. It's about being relevant and how current your message is to your audience.
What does a hair growth product matter to a 14-year-old girl browsing Facebook? It's white noise. However, what if you offered that 14-year-old girl your product. Given her connections in the social community, it might be worthwhile.
What are the advantages of Blogging?
Helps manage your online identity and build trust with your customers
Help you connect with your audience
Help you generate more traffic to your website.
Key Concepts:
Reciprocity
Have an active relationship with others in the community. If you make an error and a reader calls you out on it, thank them. Intelligent user comments help to make your product better.
When the time comes you can call on them to reciprocate. Or, if you're promoting a new hair gel, go to a hair enthusiast blogger's site and give them the product to try. Let them make the claims for you. If your gel does help curl hair, it's much more powerful if a blogger says it than your marketing department.
Participation
By sharing important information with your audience, you are gaining customers and giving them a reason to stay on your site longer. It is a proven fact that the more time your customer and potential customer stay on your site, the chances are a lot better than they will purchase from you. The more your customers return for your valuable knowledge, the possibility is great to make a lot more sales.
Your familiar tone of blogging will create a window of opportunity for your customers to see that there is a real person behind your business. The internet is the means of mass communication for conveying ideas or information, by creating a blog you will be adding your style by what you put into it. This will create an open window of customer trust and loyalty.
Ethics
Remember the Working Families for Wal-Mart? Supposedly an organization of Wal-Mart enthusiasts. There are legions of such people, but the Working Families for Wal-Mart were paid to write good things about the national grocery chain. Deceptive? Of course and Wal-Mart paid dearly.
Paul Gillin discusses the firestorm of controversy from bloggers and ultimately, tarnished Wal-Marts online reputation in his book "The New Influencer". Honesty is a highly valued commodity online. A company that can recognize mistakes and promptly fix them fast is more likely to be rewarded in the digital world.
Get feedback on your site, or your service. Allow your customers to leave comments and find out what changes your customers would like to see on your site and what they would like you to carry.
Blogging is a valuable tool, not only does it increase traffic but it lets you communicate with your customers in a friendly way.
Timeliness
Twitter trends come and go. Donald Trump was a trending topic for several weeks and then disappeared until the next kerfuffle. The importance of timeliness online is important. Though Twitter trending topics are hard to predict, there are annual events that are foreseeable.
Think about the December holidays. It's the time for giving and charity. Why not create a giving tree on your website, where users can donate time or money for a charity?
Related articles:
How To Find A Profitable Niche To Make Money
30 Minute Home Business Plan To Make Money Online
Blogging Making Money From Blogs Starting Now
The New Influencers

As "The New Influencers" discusses in detail, blogs are an essential marketing tool. As of 2021, Hostingtribunal.com said, "there are more than 500 million blogs out of 1.7 billion websites in the world. Their authors account for over 2 million blog posts daily".
Why so popular? That's because blogging is inexpensive, accessible, interactive and engaging. Not only can your company launch a blog, but you can tap into key influencers in the blogosphere to talk about your product. Prioritize which bloggers make the top 10 or 20 "most popular" list here.
There are a small number of retailers who truly understand that when you create a blog to promote your home business, it can be an extremely effective way to increase traffic to your business. Proven time and again is the fact that traffic to your site results in more sales for your business.
Through creating a blog, it allows you to improve the level of customer service you give, by allowing your customers access to useful information. When your customers can get a better perspective of how you operate your business, they are more likely to buy from you.
For example, if you are looking for a product that needs a salesperson to sell it and you cannot get the information that you are looking for on that particular product because there are no salesmen to help you, you will just politely walk away. On the other hand, when if you find a salesperson who can give you all the information that you are looking for on that particular product, you end up purchasing the product even if it costs a few dollars more.
Internet marketing works the same way. When you create a blog it will give your customers a better understanding of your service and will strengthen your relationship with your customer. Remember, a strong relationship will lead to a successful business.
If your home business is a product sales site, you do not have to blog about your product itself. You need to Blog about the things that are related to your product.
If you sell golf clubs, you want to talk about the experience you may have had on the golf course. You can make your customers feel empowered if you inform them to make their own decisions, as opposed to saying, "This is a great product! You should buy it!" The goal here is to smoothly introduce them to your product.
Blogging is a great way to promote your online business, not only does it allow you to increase traffic, but it also allows you to educate your viewers. In turn, you will gain more sales because you are now recognized as an expert who knows what you are doing.